StillCenter Publications New and Upcoming Releases
Now available on Amazon (worldwide) in paperback, regular Kindle and print replica Kindle formats.
#1 new release on Amazon for Zen Buddhism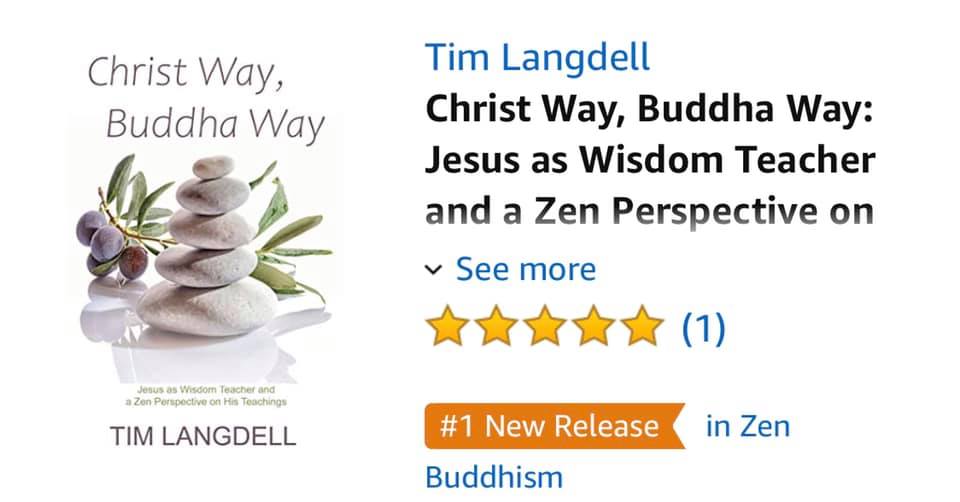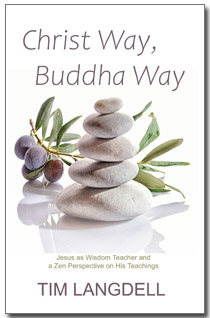 "In this brave and beautifully written book, Tim Langdell reveals the profound connections between
the vision and practice of the Buddha and Jesus. Buddhists and Christians will be immeasurably helped by this work and so will seekers on all paths who value teachings that stress non-dual union with the real. This is both an impressive contribution and a moving personal testimony to a rigorous spiritual path and I salute and recommend it unhesitatingly."
—ANDREW HARVEY, author of "Son of Man: The Mystical Path to Christ" and "Journey in Ladakh"

"Written in the spirit of Thomas Merton's Mystics and Zen Masters and Zen and the Birds of Appetite,
this book brings out into the open the rich affinities between Buddhism and Contemplative Christianity."
—JAMES FINLEY, author of "Merton's Palace of Nowhere" and "Jesus and Buddha: paths to awakening" (Audio recording with Richard Rohr)

"Christ Way, Buddha Way gives us a Buddhist reading of Christianity and a Christian reading of Zen Buddhism. He shares his journey of encounter and synthesis and outlines a path between that we can all walk. I recommend it."
—JAMES ISHMAEL FORD, author of "Introduction to Zen Koans: Learning the Language of Dragons"

Buy now through Amazon:
Paperback
Print Replica Kindle
Regular Kindle
Other Books from StillCenter Publications by Tim Langdell:
Despite a number of introductory books on Zen Buddhism available,
no single work covers the range of Zen from its origins in China to
its manifestations in Japan, Korea and Vietnam. This is the first
complete introduction to Zen that is written with the beginner in mind
and includes hands-on descriptions of what someone new to the Zen
way can expect when they visit a Zen center.

This little book is based on chapters in Langdell's groundbreaking work,
"Christ Way, Buddha Way." It draws on his writing about "Kenosis" as a
deeper form of meditation/contemplation than the popular Centering
Prayer method. Aimed at the beginner and seasoned practicioner alike,
and written for both Christians and non-Christians interested in exploring
ancient Christian meditation practices that were likely practiced by
Jesus himself .
..
Our current and soon to be available Evelyn Underhill works:
The guide to living in the presence of God in everyday life
by Brother Lawrence with a special introduction to Christian
Meditation practices.
Coming Soon in 2023/2024:
"LIVING THE EIGHT"
An anthology of writings by various Buddhist writers
on living the Eightfold Path in everyday life.
Edited by Daniel Scharpenburg

"COME WALK IN THE RAIN WITH ME: MY YEARS WITH SUZUKI ROSHI"
An insightful, and delightfully written, account of his time
with Shunryu Suzuki Roshi (author of Zen Mind, Beginner's
Mind) by his long-time student Jack Weller.

"MUSIC OF THE HEART"
A collection of stories by and about the great Sufi Master
Sidi al-Jamal by his family, colleagues and students

"DAILY STRENGTH FOR DAILY NEEDS"
The classic work by Mary Tileston that has been a daily
comfort and inspiration to millions.

"THE RUBIAT OF OMAR KHAYYAM"
StillCenter's faithful reproduction of the classic work by
Omar Khayyam with original illustrations.

Oxbridge Publishing: Recent and Upcoming Releases
Originally published in the prestigious Twayne United States Author Series
(G.K. Hall/Cengage), this is a reprint of the first work ever published on the
twice appointed Poet Laureate, and award winning author well-known for his
Zen Buddhist practice and his work on eco-activism.

Publication: Spring 2021

The fantastical story of angels and demons, told in the style of Hitch Hiker's
Guide to the Galaxy. Part One of the Trilogy.

The seminal work on Autism Spectrum Disorder.

Our Imprints
| | |
| --- | --- |
| | Our imprint for fiction, non-fiction, poetry, and textbooks on a wide variety of topics |
| | Our imprint for spiritual, religious, self-help and related texts |